Turntable Aurora MK IV------------- 1.470,00€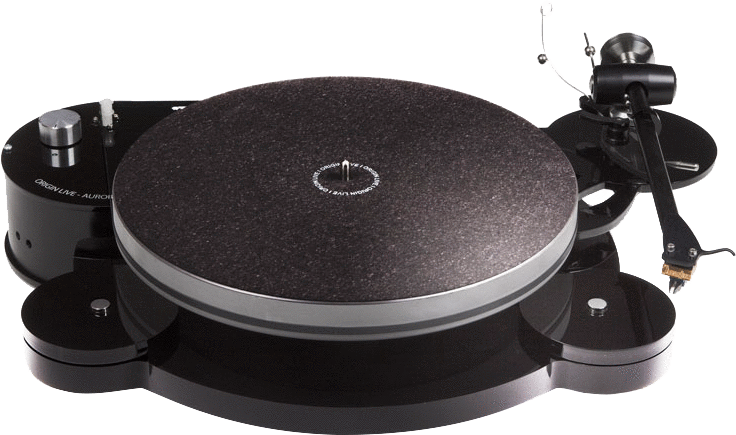 Aurora Turntable Review Quotes
"The Aurora MKII sets the musical and sonic standard for its price range. It is capable of communicating the intent of all kinds of music and of triggering the deepest and most exalted musical ecstasy. My wholehearted recommendation."  Read the full review >
Stereo Times
"Stellar performer with wonderfully realistic presentation… Enticing looks and celestial sounds… Superb attack, rigid bass, excellent dynamics, all of which means continually engrossing performances and edge-of-the-seat listening! …It looks like a star and sounds like heaven – a class leader in every respect…" Read the full review >
What Hi-Fi Group Comparison Test Winner

"The good news is the Aurora does not require a $3,000 cartridge to sound great. Coupled with the OL Silver MK IIIA tonearm and a budget cartridge I could be happy to live with it long term. It offers true high end sound at a reasonable price and has the ability to transport the recorded performance into your listening. I cannot part with it, so I purchased the review sample." Read the full review >
TNT Audio
Turntable Performance
The Aurora Mk4 is an affordable evolution of the much more expensive high performance Sovereign deck. In fact the relatively low price bears no relation to the stunning performance that this deck is capable of .
The Aurora is acclaimed first and foremost because of it's musicality. In spite of being lowest in the range, it inherits design features from our very high end decks, acclaimed among the best in the world regardless of price. Remarkably, it offers true high end performance, comfortably outperforming more expensive decks–even when fitted with inexpensive tonearms and cartridges.
Performance hallmarks are superb transparency, realistic timing, tangible soundstaging and accurate imaging. The Aurora's inherent musicality and smooth tonal balance guarantee many years of listening pleasure.
The Aurora MK4 turntable follows in the steps of its award-winning predecessors, but with super accurate speed control and significantly increased performance
Aurora Specific Features
Every deck in the range shares important features which are outlined lower down on this page. Higher models in the range are differentiated by  refinement, increasingly costly materials, components and advanced engineering.
How to choose partnering items
Choice of Tonearm
We suggest Origin Live tonearms as first choice to partner any Turntable including our own. Although our turntables work well with all arms it's worth considering that even our entry level arms outperform others at well over 4 times the cost (on any deck). To choose a different brand means a different armboard which can create additional cost later on, should you wish to upgrade the arm to an Origin Live.
We're often asked which of our arms is the best choice for a certain deck? This question can refer to either compatibility or sensible price point. You need not worry about compatibility, as all the arms match our decks without exception. The amount you may wish to invest is a more difficult question as it depends on viewing your system as a whole. You can be sure that if you have a decent phono stage you will hear the same differences between arms all the way up through the range regardless of which deck they are on.
How we choose materials and why it matters
High Quality Materials
In the same way great singers have better voices, all materials resonate differently and have a "voice" in micro-vibration. This factor is often dismissed by theoreticians who prefer to work conceptually and short cut the laborious process of evaluating the sonic signature of different materials.
Why the best decks sound dramatically better
Why the Best Turntables sounds dramatically better
It helps to understand what seperates exceptional decks from the numerous other choices available. The following article explains why turntables make more difference than almost any other component in a system. It also reveals the difficulties in achieving the dramatic performance improvements that vinyl is capable of. Understanding this will help you choose the best possible turntable.
Speed control is electronically switched between 33rpm and 45 rpm. A smooth powerfull motor drives the platter at constant speed with no measurable deviation from absolute speed. The remarkable speed accuracy is achieved using advanced speed control. This is not only accurate but avoids introducing the serious motor jitter prevalent in most turntables.
.
Precision monitor to give fantastic pitch stability