Dual CS 435-1 EV --- 440€
Tonearm technology:
Weight balanced tone arm. Counterweight and anti-skating. Headshell with 13mm (1/2-inch) – fixing-holes. Torsion headshell.
Chassis technology:
Solid wooden chassis. Aluminium platter with antistatic felt mat.
Drive technology:
Belt drive with polished flat belt.  DC motor with electronic speed control. Viscosity damped arm lift. Automatic tone arm cue. Auto Stop with tone arm return. Supplied with magnetic Audio Technica AT-91.
* Also available with built-in phono preamplifi
Dual CS 435-1 Made in Germany
Fully Automatic
An outstanding fully automatic Plug & Play turntable made by DUAL.
Optional available with a built in phono preamplifier. Because of the adjustable tracking force and antiskating force you are able to grade up this turntable by another cartridge.
For the protection of the tonearm and the chassis a dustcover is included, too.
Precise technology and full comfort for an attractive price. And this is "Made in Germany"!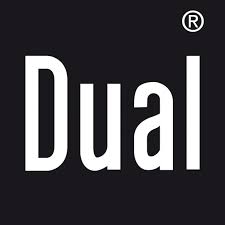 Technical Specifications
| | |
| --- | --- |
| Speed r/min.: | 33/45 |
| Speed accuracy: | +/- 0,12 % |
| Rumple unweighted signal-to-noise ratio: | 46 dB |
| Rumple weighted signal-to-noise ratio: | 68 dB |
| Cartridge system: | Audio Technica AT-91E |
| Frequency Response: | 20 Hz – 20 kHz |
| Connections: | 1 x RCA Stereo Cable, 1 x Ground Cable |
| Dimensions (WxHxD): | 420 x 125 x 360 mm |
| Weight: | 3,78 kg |
| Colour: | Black / Silver |
| Power supply: | 12V DC, 150 mA |