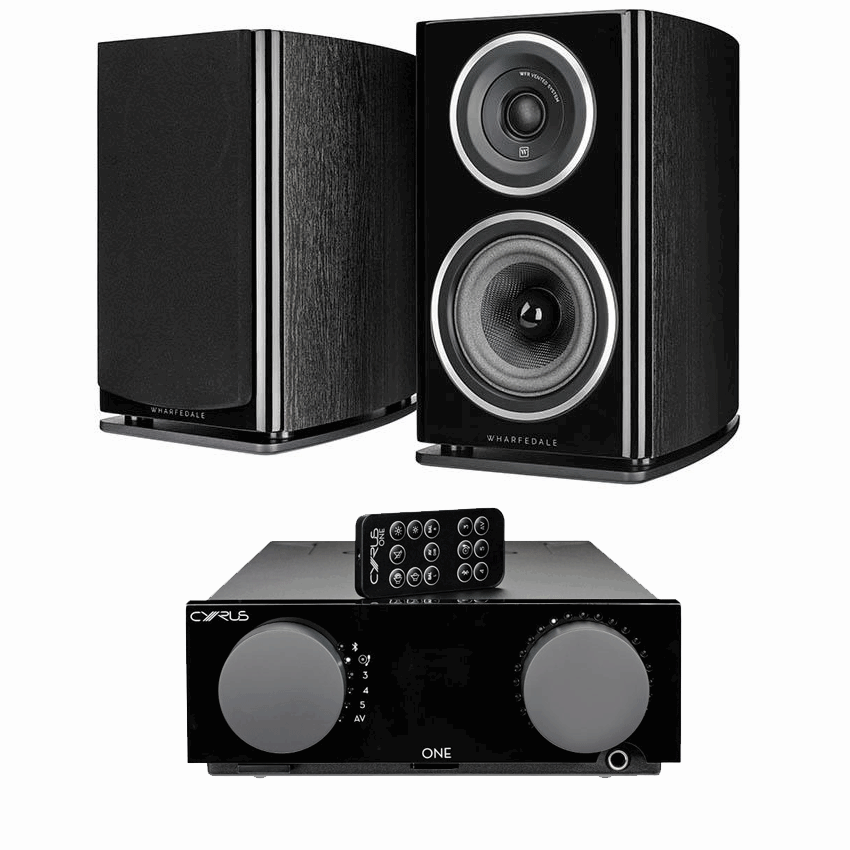 The Cyrus ONE is designed in a clean, simple, elegant non-ferrous chassis that minimizes eddy currents and reduces pickup of external noise. Extensive mains supply filtering is used to reduce the impact of external noise which has the ability to colour the audio performance.
Featuring Cyrus's own 3rd generation Class D amplifier providing 2 x 100W of power, aptX ® compatible Bluetooth ® connection, a dedicated high power , high voltage class AB headphone amplifier, MM Phono stage, and 4 line level inputs this is a high performance solution that will form the heart of many different lifestyle systems. The infra-red remote can control volume and switch inputs, as well as adjusting the brightness of the display LEDs to suit your listening environment. And, because it is made by Cyrus, class leading musical performance is guaranteed.

Cyrus ONE Integrated Amplifier and Cyrus Linear One Speaker Package
Cyrus ONE Core Bundle
​Cyrus One Integrated Amplifier
Cyrus OneLinear speakers 
Dedicated Cyrus speaker cable 3.0m pair
Cyrus One Core Bundle was 1.398 € --- now 1.132 €
HIGH POWER AMPLIFIER
2 x 100W gives class leading power output that will drive any loudspeaker regardless of their size. All that power enables Cyrus ONE to present your music with a huge dynamic range, giving 3D detail and bags of energy without the need to buy big, bulky, inefficient amplifier boxes.
MOVING MAGNET PHONO STAGE
Cyrus One features a built-in phono stage that is compatible with all moving magnet cartridges and requires no adjustment or extra set up, enabling you to play all your favourite vinyl from most turntables.
SPEAKER IMPEDANCE ADJUSTMENT
SID – Speaker Impedance Detection automatically matches the amplifier's output response to the electrical load of the loudspeakers. This means that matching Cyrus ONE to any brand of loudspeaker has suddenly been made so much easier.
PRE AMPLIFIER OUTPUTS
Pre-Out sockets on the rear panel allow the connection of additional power amplifiers for system upgrades to drive more demanding loudspeakers. This means that Cyrus ONE is not limited by its size or power output for any loudspeaker you may choose.
BLUETOOTH ENABLED (APTX®)
aptX® compatible Bluetooth enables you to stream music from your phone/tablet or computer via a wireless Bluetooth connection, providing maximum flexibility without the need for a home network or any complicated set up. This allows everyone in the family to enjoy their music from their portable devices quickly and easily.
AV DIRECT
The ability to run the Cyrus ONE as a power amplifier in AV bypass mode enables it to be easily integrated into any home theatre system whilst still offering amazing musical performance.
CLASS AB HEADPHONE AMPLIFIER
The high power, high voltage class AB headphone amplifier will drive almost all headphones with ease and with an output on the front, the Cyrus ONE offers a level of musical performance for the personal listening experience that is also easy and convenient.
STUNNING MODERN DESIGN
The striking design incorporates white LEDs to signify the input selected and the volume setting during playback. The intensity of these LEDs can be adjusted to suit the lighting in the local environment. With textured soft feel controls, a highly polished faceplate and carefully chosen paint finishes; the Cyrus ONE will look stunning in any environment.
Cyrus One Linear Speakers
This compact bookshelf speaker pair is a precision stereo loudspeaker system for use with hi-fi separates, designed for positioning 10-30cm from a rear wall.
Cyrus One Linear Speakers is a premium loudspeaker system which, whilst designed to perfectly augment the Cyrus One amplifier, provides exemplary performance with a whole host of audio systems.
Engineering
The One linear is engineered with a classically 'British' linear frequency response curve. The objective is complete neutrality, allowing the full character of the music and the subtle details of the performance to be revealed.
Long Listening
A loudspeaker can only be truly perfected if the amplifier system that is driving it is known. In this case, the One linear has been optimised for use with our own hybrid Class D amplifier topologies. The One linear is designed to be as relaxing and enjoyable after many hours of listening as it is attention-grabbing and impressive in the first 10 minutes.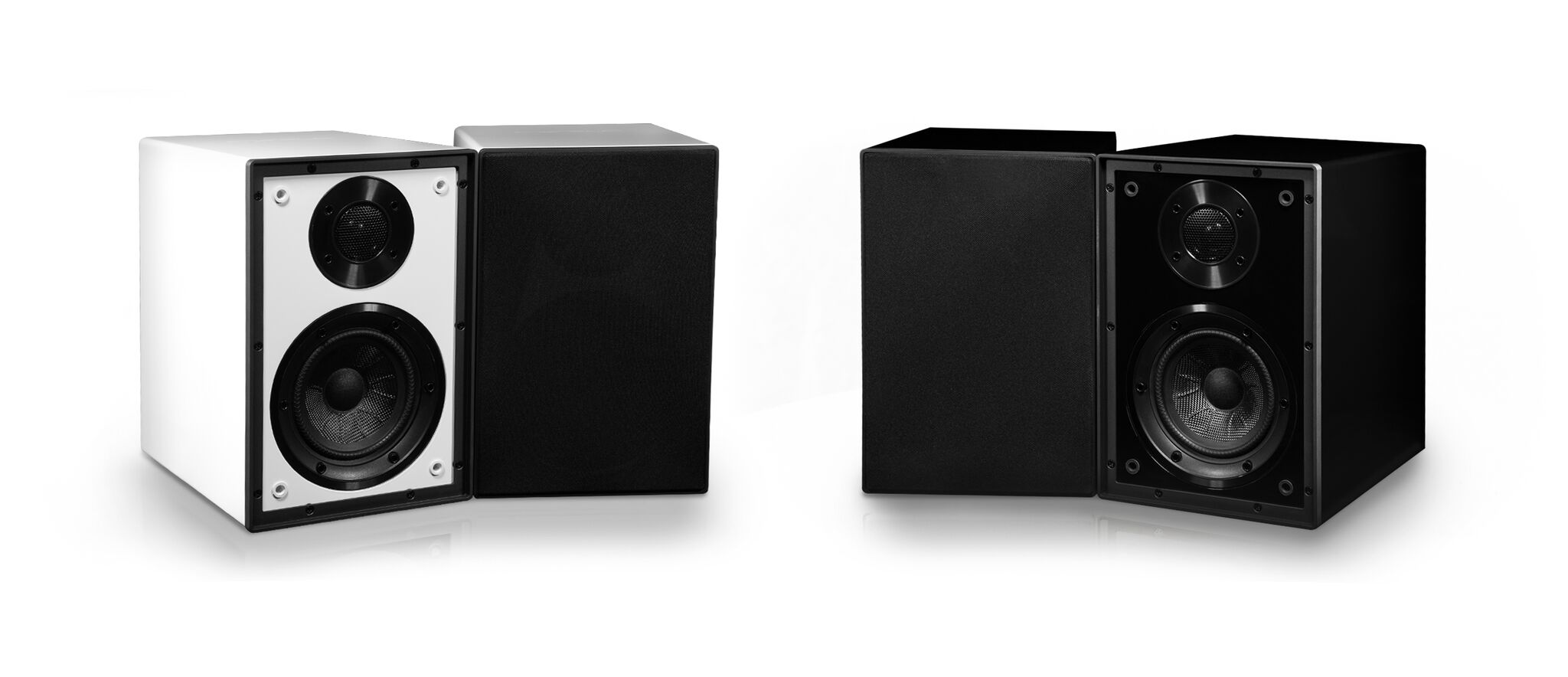 Bass/Mid driver
The One linear bass/mid driver uses a double-wound copper-coated aluminum voice-coil. As well as being light, this produces a stronger induced magnetic field which gives greater grip over hard to control bass frequencies. The voice coil is bonded to a carefully profiled Kevlar cone material.
This material is light and responsive, carrying limited inertia and retaining its shape and hence audio characteristic even when pushed hard. The speed and accuracy of the resulting bass response is remarkable for a speaker of this size.
Tweeter
The 'tweeter' or treble unit is a textile soft-dome, capable of meaningful response well beyond the limits of human hearing. Refined and balanced, the high-frequencies are never 'aggressive' or harsh, yet retain the full detail of the source recording.
Crossover
The crossover uses high-quality electrolytic capacitors to maintain the signal integrity and a smooth phase response through the transition from bass driver to tweeter. This again contributes to the even response.
Cabinet
The cabinet has been developed using advanced computer modeling with 'Delayed Cumulative Spectral Analysis' to reduce the contribution of cabinet noise to levels more than 35dB below the driver output. This is also used to fine-tune the crossover to ensure a consistent performance, even when listening 'off-axis'.
The One linear is rear-ported and designed to be positioned between 10-30cm from a rear wall. This will optimise the bass response and mid-range clarity, although some experimentation with position is advised as this will be room-dependent.
– Nominal impedance: 8Ω
– Sensitivity: (2.83V@1m) 86dB
– Recommended amp: 20 – 120W
– Freq resp: (±3dB) 50Hz-24kHz
– Crossover freq: 2.1kHz
– Cabinet volume: 11l
– Bass driver: 5" Woven kevlar cone
– Treble driver: 1" soft dome
– Dimensions (HWD): 305 x 200 x 295mm
– Net weight: 14 kg (per pair)