Cyrus Audio CDi was 1625€ now 1400€
AFTER A VERY LONG WAIT I FINALLY HAVE BOUGHT MY NEW CYRUS CDI PLAYER. I HAVE BEEN A CYRUS FAN FOR YEARS AND I HAVE ALWAYS BEEN IMPRESSED WITH MY CURRENT PLAYER. THIS NEW PLAYER IS SIMPLY SOMETHING ELSE. I CANT BELIEVE HOW AMAZING CDS CAN REALLY SOUND.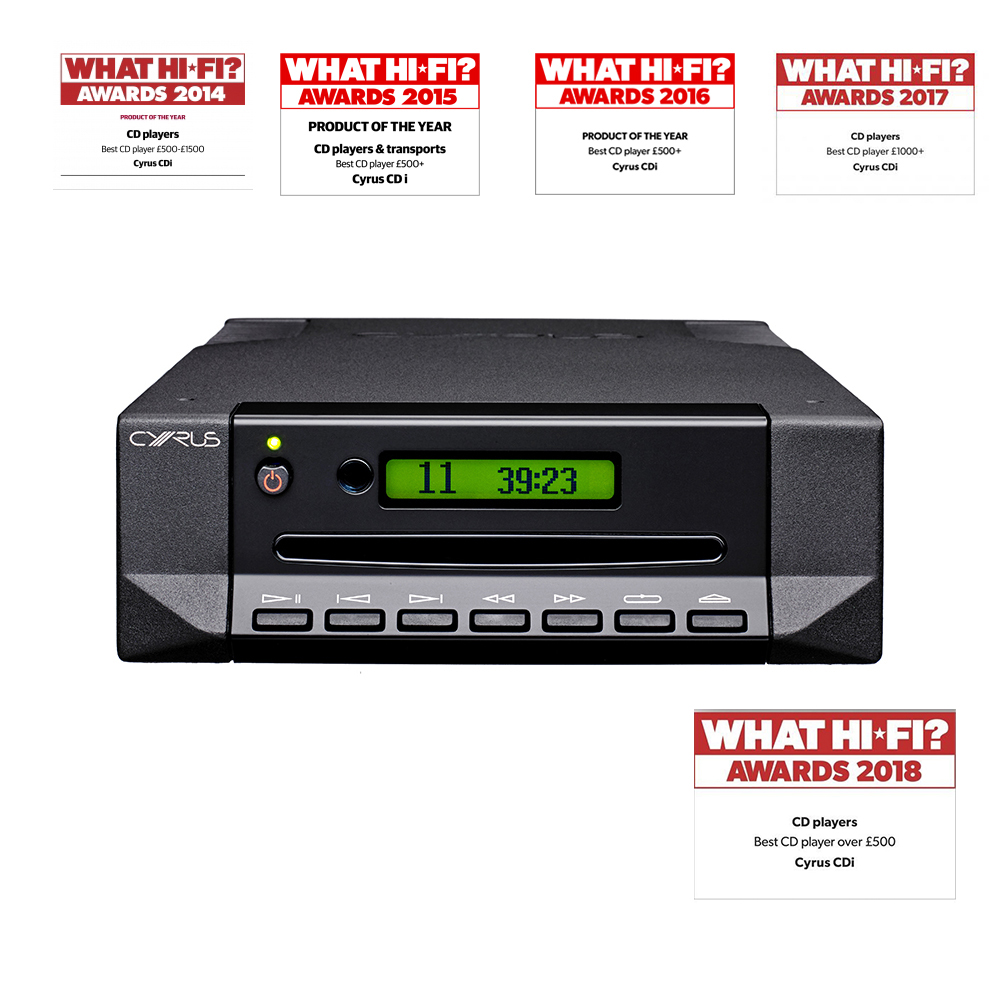 IN FACT, CYRUS SAYS THIS IS ITS BEST-SOUNDING CD PLAYER YET. AND, AS MUCH AS WE'VE LOVED THE COMPANY'S PREVIOUS MODELS, WE'RE MORE THAN HAPPY TO BACK THAT CLAIM. – WHAT HI-FI
Our CD players are better because they generate far less background noise than most. We call this our SE or Servo-Evolution technology. The principle itself is quite simple. Usually the laser mechanism (servo) which reads the data from a disc makes tiny movements side to side quite quickly to re-read miss-read data – this create 'servo noise' and that impacts the 'noise-floor' limiting the quality of the sound output. The principle objective with our CD players is to extract the data on the disc as accurately as possible the first time – and that is only possible through some very careful design and calibration in both the hardware and software elements of the player.
The CD i is our 'integrated' model in the range, including a built in 'Digital to Analogue' converter, converting that digital data into a beautiful analogue signal, using an extremely refined 32bit DAC. The circuit of the CD i has been designed in 2 discrete sections, allowing the product to be upgradeable through the addition of our separate power supply (the PSX R2). This addition completely isolates the DAC section of the product, improving timing and eliminating any intermodulation which can impact the delicate analogue signals output. Whilst not necessary for outstanding performance, this addition is a valuable upgrade for the serious audiophile.
OUTPUTS
SPDIF optical – 1
SPDIF coaxial – 1
Stereo RCA analogue – 2 Pairs Fixed
PSX-R upgrade port – Yes
MC-BUS – Yes
FILE/SIGNAL COMPATIBILITY
Maximum Signal Resolution – 16-bit/44.1kHz
DIMENSIONS (MM)
Height – 73
Width – 215
Depth – 360
Weight (kg) 3.6